Tipy pro nejlepší svatební foto v Karlových Varech.
Váš svatební fotograf – ateliér Nagina Alieva
Svatební den patří k nejkrásnějším dnům života a budoucí novomanželé by se na něj měli dobře připravit. Dobře padnoucí svatební šaty, kadeřnice, příprava hostiny, pozvánky a vše to důležité.. Pro vzpomínku na tento den chceme i vydařené fotografie, video, na které se rádi podíváme i po létech.
Volba svatebního fotografa by se neměla podceňovat a bylo by dobré vyhledat si ho již s větším předstihem. Dobře si prohlédněte portfólia více fotografů, který styl a nabídka Vám bude více vyhovovat. Také se s nim osobně sejděte, aby Vám byl příjemný a Vy se s ním cítili dobře.
Proberte možné scénáře předem. Dobrý fotograf Vám dá dostatek inspirace a připraví plán. Prohlédněte si i mé portfólio. Jsem profesionální fotografka z Karlových Varů, žena s romantickou duší a milostné příběhy fotografuji velmi ráda. Je to den nabitý krásnými emocemi.
Doporučuji udělat si čas i před samotnou svatbou a nechat si nafotit fotografie Vašeho "milostného příběhu" v civilu někde na romantických místech nebo v ateliéru. Může to být i vhodná originální fotografie pro svatební pozvánky.
Důležité je pro den "D" si určit, kolik času můžeme svatebním fotografiím věnovat.
Focení před obřadem – přirozené momentky
Focení při obřadu – důstojné fotografie životního předělu
Focení po obřadu se svatebními hosty – sem patří jak hromadná fota, tak i vtipné momentky
Soukromé focení novomanželů odpoledne ve svatebním – romantická fota, pro která se vyplatí nechat si udělat dopředu scénář od fotografa. Svatební hosté se již baví, a tak si novomanželé mohou udělat chvíli pro sebe a věnovat se svatebním fotkám s humorem či romantikou, podle toho, jak to skutečně cítí.
Fotograf jim bude průvodcem a rádcem a bude zachycovat ty nejlepší momenty.
Moje tipy na odpolední focení záleží na tom, kolik času můžete focení věnovat. Krásná fota z Karlových Varů jsou na kolonádách, v Grandhotelu Pupp nebo v jiném secesním domě, v Dvořákových sadech nebo někde jinde v přírodě při krásném počasí. Kdo má více času, může zajet i na hrad Loket. Nebo může být ateliérové focení, kde se dá využít nejrůznějších rekvizit.
Ať je Váš svatební den krásný a Váš šťastný milostný příběh Vás provází po celý život..
Nagina Alieva
Váš osobní fotograf
Karlovy Vary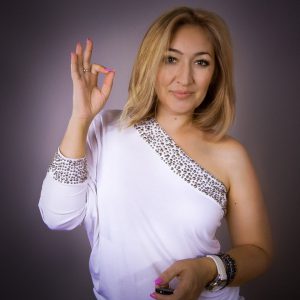 Uložit
Uložit
Uložit
Uložit